October 1, 2008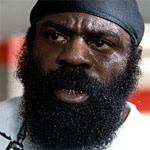 Sherdog.com's Loretta Hunt spoke exclusively with Slice, who discussed his performance against Thompson, how he has improved since and whether he's worried about Shamrock's submission game. Read More »
---
Kimbo vs. Ken Shamrock scheduled for
Oct. 4th, live on CBS
August 25, 2008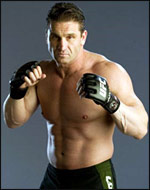 Kimbo's next opponent has been confirmed to be Ken Shamrock. The two will fight in the main event at EliteXC's Saturday Night Fights October 4th at the Bank Atlantic Center in Sunrise, FL.
Shamrock (26-13-2) has over 15 years of experience in MMA. His most famous fights were against Tito Ortiz and Royce Gracie.
---
July 28, 2008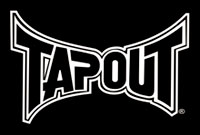 TapouT, the premier mixed martial arts apparel, gear and lifestyle brand, announced today that the company will sponsor MMA superstar Kimbo Slice and create a joint apparel line under the TapouT brand. TapouT will be Kimbo's exclusive apparel sponsor.
Read More »
---
May 31, 2008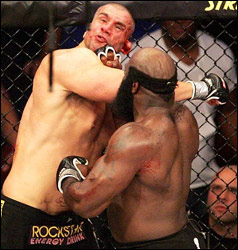 Kimbo Slice defeated James Thompson by TKO at 0.48s of round 3. Kimbo and Thompson headlined at Elite XC's Saturday Night Fights on CBS. The event was the most watched live MMA event ever with a reported 4.9 million viewers.
Watch the Full Fight
---
May 22, 2008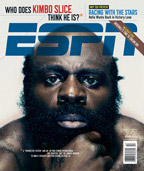 "Kimbo Slice is a very scary guy. He is also a thoughtful friend, loving dad and budding entrepreneur. As MMA's date with mainstream destiny nears, it's time to reappraise the ultimate YouTube legend." Read Full Article.
---
May 30, 2008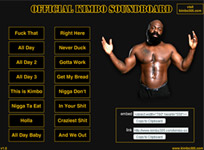 Check out the new Kimbo Soundboard. Kimbo Soundboard
---
Kimbo vs. James "The Colossus" Thompson, May 31st on CBS Saturday Night Fights
April 1, 2008

Kimbo will fight Pride Fighting veteran James "The Colossus" Thompson (14-8-0) in the main event at "Saturday Night Fights" on CBS. The fight is scheduled for May 31st at the Prudential Center in Newark, NJ.
---
Kimbo Wins!
Feb 16, 2008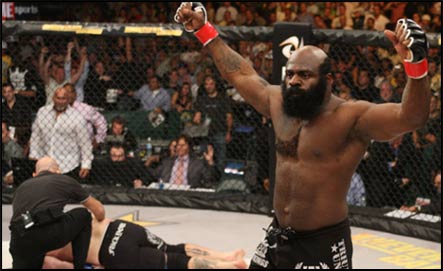 The fight took place at University of Miami's BankUnited Arena in Miami, FL. The event, which aired on Showtime, headlined by a heavyweight clash between Kimbo Slice and Tank Abbott. Kimbo finished Tank with a right hook and a glancing left. WATCH the Cage-Cam here>> www.sho.com

Kimbo Slice vs. James Thompson
Kimbo's 3rd Professional MMA Fight at Elite XC's Saturday Night Fights on CBS.

Kimbo fights Bo Cantrell in Showtime's EliteXC ProElite Renegade.

Kimbo fights a bouncer in a bare knuckles professional street.

The fight that started it all.


Dana White (UFC) Talks about Kimbo on TUF
White talks about why Kimbo is on the show.

Kimbo gets interviewed by ESPN E:60

Kimbo Slice Trains with Bas Rutten
Bas Rutten trains Kimbo Slice to take on veteran MMA brawler David "Tank" Abbot at the main event of the next EliteXC card slated for Feb. 16, 2008.

Mayhem Miller heads up to Bas' gym to have lunch with Kimbo and the gang.